Property, Rentals, Transactions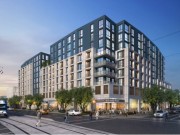 The innovative project looks to transform this downtown district through the infusion of a diverse set of programs that will provide activated street frontages and a variety of housing typologies at all levels of affordability.
Red Ledges, a premier four-season mountain golf community just minutes from Park City continues to invest in new club amenities, as it recently broke ground on a new Jack Nicklaus Signature 12-hole Golf Park.
Summit Sotheby's International Realty announced that Bill Ligety and Mary Leader were recognized on the The Wall Street Journal and REAL Trends Inc.'s The Thousand, a report ranking America's top 1,500 residential real estate agents and teams based on 2014 annual sales volume, transaction sides and average sales price. Bill and Mary ranked #136 on the Teams with the Highest Average Sales Price.
Summit Sotheby's International Realty is proud to announce the sale of 7670 N West Hills Trail in Promontory, Park City by Rod Bradshaw. The original list price was $3,695,000. "Brand new completed home ready to move into including fully furnished in desired West Hills subdivision of Promontory with perfect views of Park City's three ski resort mountain views. Located on Hole 7 of the Pete Dye Signature course, including large deck areas overlooking the 6th and 7th holes.
Summit Sotheby's International Realty is proud to announce the sale of 2567 Silver Cloud, Park City by Kelly Rogers and Shannon Lee. The original list price was $2,795,000
Unique Utah Homes presents a long list of Provo Utah Homes for sale in different locations of Utah, the great state of America. Within the incredible landscape and friendly environment of Sundance Utah, Cabins for sale offered by Unique Utah Homes would be an income producing home for you if you invest in them strategically. There are a large number of options for cabins here in the locality
Utah's U.S. Senators Orrin Hatch and Mike Lee are supporting an amendment to the Omnibus government funding bill introduced by Sen. John Barrasso (R-Wyo.) that would fully fund the Payment in Lieu of Taxes (PILT) program. The amendment, which is paid for by reducing US spending on overseas programs, would provide $421 million for PILT in Fiscal Year 2014. Local governments receive federal payments under the PILT program to help compensate for the loss of property tax revenue due to non-taxable federal lands within their boundaries
Award-winning national firm KTGY Group, Inc., Architecture + Planning, is pleased to announce the first climate 5 net-zero "smart home" to achieve a Home Energy Rating System (HERS) 0 rating. Called The Zero Home, this production home is the first in Utah to receive the U.S. Department of Energy (DOE) Challenge Home certification, which recognizes home builders for their leadership constructing zero-energy ready homes that are both energy efficient and include high-end finishes, improved indoor air quality, and greater durability
Mountain Real Estate Capital (MREC), a national leading equity partner to residential land developers and homebuilders, announces the closing of a new investment with DAI/Candlelight Homes of Utah. The new joint venture intends to develop Santorini Village, a 199-lot housing community located in South Jordan, Utah. The transaction represents MREC's first investment in the Salt Lake City housing market.
Eaton Real Estate, IDX, Inc. and Realtor James Eaton have teamed up to bring home seekers in Lehi, Utah an innovative online property search. With his customized IDX solution, Eaton has synchronized his website to the Wasatch Front Regional MLS (WFRMLS) database, to integrate thousands of listings onto his search page. Affiliating with the incredible IDX technology was the best decision Eaton made for his website, simplifying the search tools for himself and his clients.